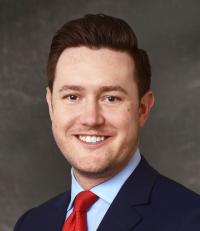 Darren K. Angell
Associate
Darren Angell joined the firm in 2020 as an Associate in its commercial real estate group. Darren concentrates his practice in real estate, where he has gained a wide array of experience in commercial property acquisition and disposition, commercial leasing, project development, and zoning. His experience includes negotiating and drafting real estate contracts, including purchase and sale agreements, leases, and development agreements. Throughout his career, Darren has represented buyers and sellers, as well as landlords and tenants, on behalf of both public and private sector clients. It is through this diverse experience that Darren has managed transactions for retail, office, multi-use and industrial properties, including counseling clients on strategic site acquisition for redevelopment and relevant zoning issues related to both acquisition and disposition of property.
Darren has also counseled prominent municipalities in the Chicagoland area. In that role, he advised municipalities on liquor and business licensing, drafted local ordinances, and served as lead legal representative for two municipal commissions.
Darren also works with private sector corporate clients to meet their business transaction needs. His experience includes negotiating and drafting operating, sponsorship, endorsement, and employment agreements.
Darren was named an "Emerging Lawyer" in 2019 and 2020.
Primary Areas of Practice:
Business Counseling
Business Transactions
Real Estate
Contact
Education
Mercyhurst University, B.A, Business Administration, 2007 - Member of the Men's Basketball Team The University of Kansas School of Law, J.D., 2012
Bar Admissions
Illinois Supreme Court, 2013 United States District Court for the Northern District of Illinois, 2015 United States District Court for the Southern District of Illinois, 2019 United States District Court for the Northern District of Indiana, 2019
Professional Affiliations
Chicago Bar Association Executive Board Member for the Chicago Chapter of The University of Kansas Alumni Association Emerging Lawyers, 2019 and 2020